A new baby is an event that both parents look forward to. But during the pregnancy, the mother is the most involved in the development of her baby since it is her body that provides nutrition and protection. Once the baby is born, the father tries to participate in taking care of this sensitive little being. A task that many fathers find difficult and quite complicated. Imagine then the case of a dad who found himself alone to take care of his 5 children, after the tragic death of his wife. Here is his story!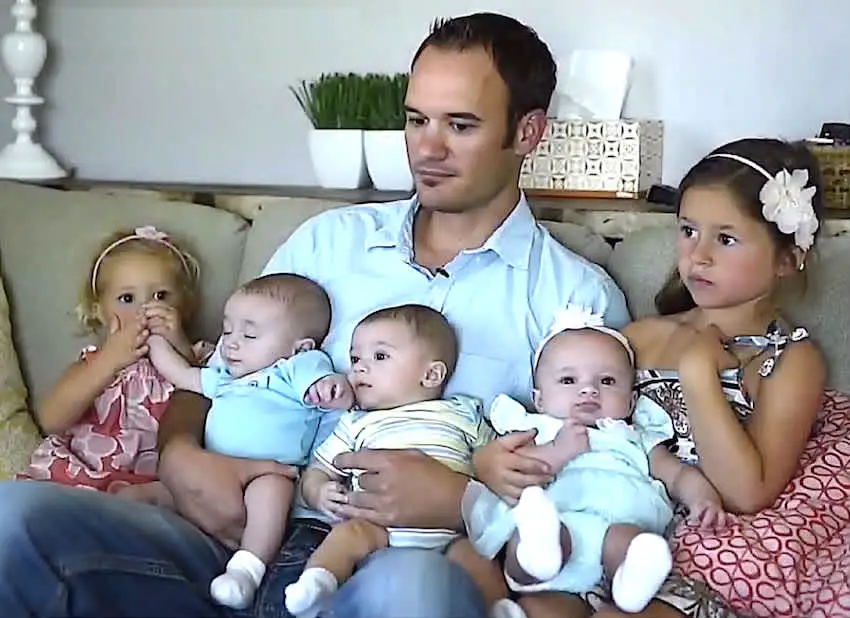 Joey Rott is a father of 5 children, who lost his wife after the birth of their triplets. Originally from Kansas, USA, Joey met his wife Cassie in 2004, it was the beginning of a great love story. A few years later, they decided to get married and start a family.
The couple had two little girls, Chloe aged 6 and Tenley aged 2. In 2015, Cassie got pregnant and this time the couple would have triplets. The news was a real surprise, if not a real shock for the couple. Joey says his wife started crying when she found out she was having three babies.
At 23 weeks, Cassie had to be hospitalized at a facility more than two hours away from her home. She spent most of the remaining months of her pregnancy there, with visits from her two children and her husband every weekend.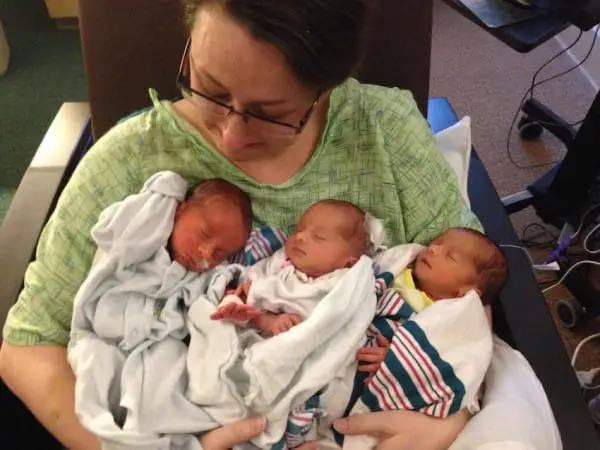 Unexpected discomfort
According to Joey, the birth had gone very well, Cassie had no problems and experienced no complications. But about a week after her babies were born, the mother woke up around 3 a.m. with severe chest pains and a fast heartbeat. Her husband immediately took her to the Emergency Room of the hospital where she had been admitted during her pregnancy. The doctors decided to do a CT scan to find out the source of the pain. That's when they discovered a blood clot in her lungs.
Cassie was suffering from a pulmonary embolism, a pathology that results in the obstruction of an artery of the lungs by a walking blood clot. The clot usually forms during phlebitis and then breaks away from the walls of the vein to join the bloodstream to the heart. When the heart contracts, the clot is propelled into the arteries of the lungs and closes them.
Several risk factors can contribute to the development of pulmonary embolism, including clotting disorders, certain medications, obesity, surgery and long-term bed rest.
Cassie received the required care and was discharged from the hospital a few days later. The parents came back home to prepare the room for their triplets and to see their two daughters. They received a warm welcome from their daughters.
According to Joey, Cassie picked up the pace as soon as she got home. She immediately got down to help, baking cakes for her daughters and putting away the babies' things. But within minutes, Cassie felt the same pain in her chest. She sat down to rest, but the symptoms didn't go away and her husband realized she needed to go back to the hospital.
Driving as quickly as possible, Joey said his wife had lost consciousness during the drive. When she arrived at the hospital, she was immediately taken care of. Doctors told her husband that her condition was very serious and that there was not much they could do for her. Cassie died afterwards.
Single and parent of 5 children
After the death of his wife, Joey was left with 5 children to care for. A heavy responsibility for a single father in a time of grief.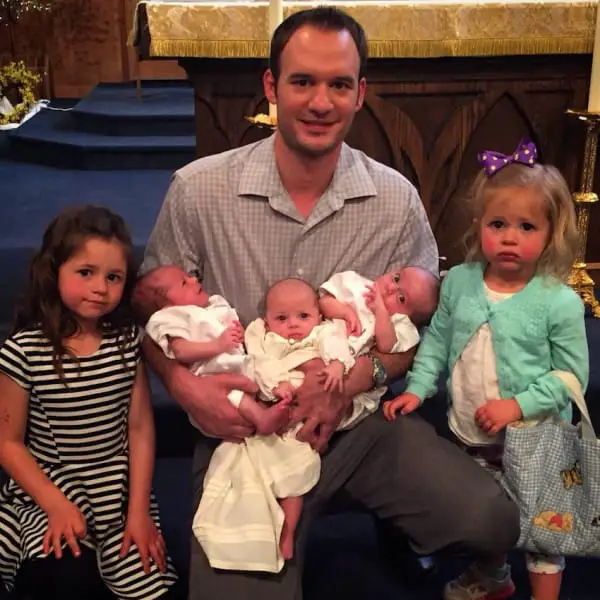 But with the support of his family and friends, Joey managed to cope and gradually learned to take care of his kids on his own. The family also received many donations including money, diapers and other baby items.
After several months of her death, Joey still couldn't let go of his wife's things. He says he finds it very hard to let her go. Her clothes are still in their bedroom closet.
Cassie may not be there physically with her family, but she is present through the memories they have shared and all the artistic details and decorations she has brought to her home.
Joey wants to show his children that their mother was a great woman and most importantly, that she loved them very much.
How can you prevent a pulmonary embolism?
Avoid extended periods of immobility
Get regular physical activity
Avoid tight clothing that restricts blood flow
Maintain a healthy weight
Drink a lot of water, especially in a long, still body position, such as in an airplane