Who hasn't wanted to have shapely arms? Often demotivated by the time it takes to build up their arms, athletes give up or regularly switch to other exercises too quickly. What if we gave you some solutions? Building up your arms is first and foremost a question of targeted exercises for the biceps, not just the triceps. We will apprehend these muscles and understand what they are used for. We'll also reveal our practical guide: every movement that's conducive to developing the triceps and exercises with and without equipment. It's your turn to play!
LET'S TALK TRICEPS!
The triceps is located at the back of the arm. It is attached to the shoulder and the elbow. Its cousin is the biceps (at the front of the arm). It is complementary to it. The triceps thus has a role of extension of the elbow and retropulsion of the shoulder. In everyday life, it is used, for example, to lower objects or to move your hand away from your shoulder. In bodybuilding, we often think (wrongly) that it is exclusively the biceps that make the arms look good. The triceps actually play an important role. This will make you want to (re)train these muscles even more, don't you think? We're sure of it!
PRACTICE: OUR TIPS TO PERFORM
Let's get a little nervous! Let's get practical. If you want to learn how to build up your arms in a harmonious way, it is essential for you to combine the following exercises with specific exercises for biceps, but also for pectorals even if you are a woman, yes)! In addition, you should know that in order to obtain results, you will have to remain tenacious in your work and maintain regularity in your training sessions. We recommend that you determine three regular exercises with three different intensity levels, and add one or two exercises that vary your workout. Finally, you won't need much equipment for the arm and tricep exercises. Elastic bands and dumbbells at your desired weight are all you need.
EXERCISES WITHOUT EQUIPMENT
ELBOW TO BODY PUSH-UPS
An ideal exercise for working the entire upper body in synergy, elbow push-ups are simple to perform and can be done anywhere. Push-ups with elbows close to the body allow you to stretch the back of your arms, and therefore work your triceps. Get into a plank position with your hands on the floor in line with your shoulders and your feet apart and in line with your pelvis. If you are new to push-ups, or if you are not comfortable with this exercise, lean on your knees and not on your feet. Then, you just have to bend your elbows and let your body weight go down. The interest here is to keep the elbows to the body, and to stabilize your plank position, it must be perfectly aligned. It is up to you to keep control of the movements: descent and ascent. Practice this exercise in 5 sets of 5 repetitions and increasing the level: 5 sets of 7 repetitions, etc., until you reach 15 repetitions per set.
BENDERS
Stand with your feet apart and in line with the width of your pelvis. Raise your arms with palms facing the sky. With your arms extended well below your head, the purpose of the exercise is to stretch your entire arm length and stretch your triceps. To do this, simply rotate your wrists while keeping your arms straight. Whatever your level, opt for 3 series of 1 minute and 30 seconds. The goal is not to provoke fragility and the risk of tendonitis in the long run.
TRICEPS EXTENSION
Position yourself in front of a wall, standing 1 meter away, with your feet aligned with your pelvis and shoulders. Move your upper body forward, i.e. your elbows and shoulders, so that your elbows and palms are pressed against the wall. Thus, your forearms are stuck to the wall (and should not take off anymore!), obviously bend your arms, at the place of your elbows that must form an angle at 90°. This exercise will allow you to gain in balance and in the distribution of your body weight. Moreover, it stretches your triceps and strengthens your abs. Opt for 3 sets of 1 minute and 30 seconds.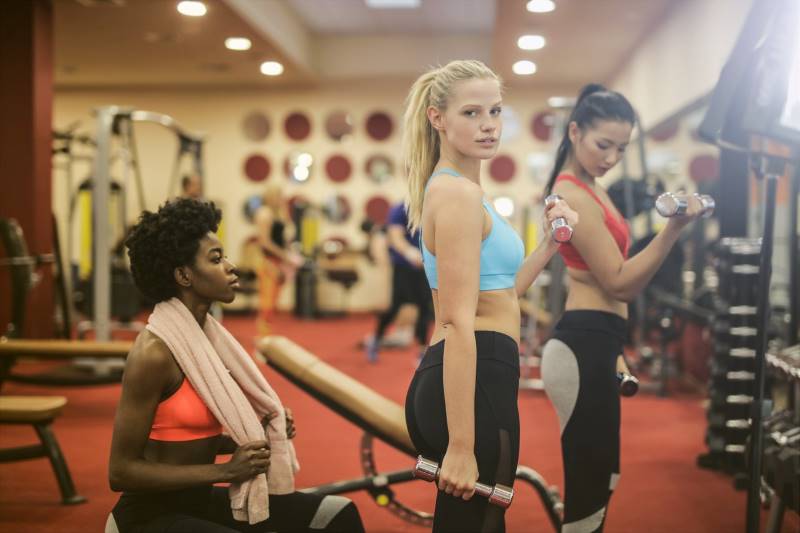 EXERCISES WITH EQUIPMENT
THE CLASSIC BENCH PRESS
Here, you will need a bench, a bar with loads to be determined according to your level and your habits. Simply use a bar itself or free dumbbells if you want to have a dumbbell in each hand, but be careful because the balance between the two arms must be the same. Lie on your back on your bench, with your feet anchored in the ground, and your pelvis and shoulders well supported on the bench. All you have to do is push your barbell up towards the sky with your arms stretched high, control your load and your balance during the descent and get down to your pectoral muscles. If you're just starting out, choose to do 4 sets of 8 reps. In the gym, make sure you are insured.
STRENGTHENING MUSCLES WITH RUBBER BANDS
Stand with your feet apart and in line with your pelvis and shoulders. Use a rubber band that you place one end under your foot on the floor, retrieve the other end with both hands. Your elbows are bent back at the nape of your neck and hold the second end of the rubber band. The goal is to bring your hands up with the elastic back but over your head. The shorter you make the length between the two ends of the elastic, the harder it will be. Start with 5 sets of 10 reps.
BENCH DIPS
You will need a bench to perform your dips. With your back to the bench, place your palms behind you on the bench, a little wider than your shoulders. Place your feet on the floor, knees bent. Lower your chest straight down, bending your elbows. Come back up in extension, contracting the triceps. 4 sets of 8 repetitions to start. Be aware that there are many ways to perform dips, if you want to vary the movement.
Don't forget to take breaks between each set. Good practice!