You never imagined how quickly winter would come, did you? That's right! Doing sports when it's cold is not always easy, especially when you have to motivate yourself to go out and face the seasonal temperature, even if some people are adept at doing sports in cold weather. But then, is it a good or bad idea to practice a physical activity in winter? You will see that warming up is more than ever an essential step in preparing your body for cold weather.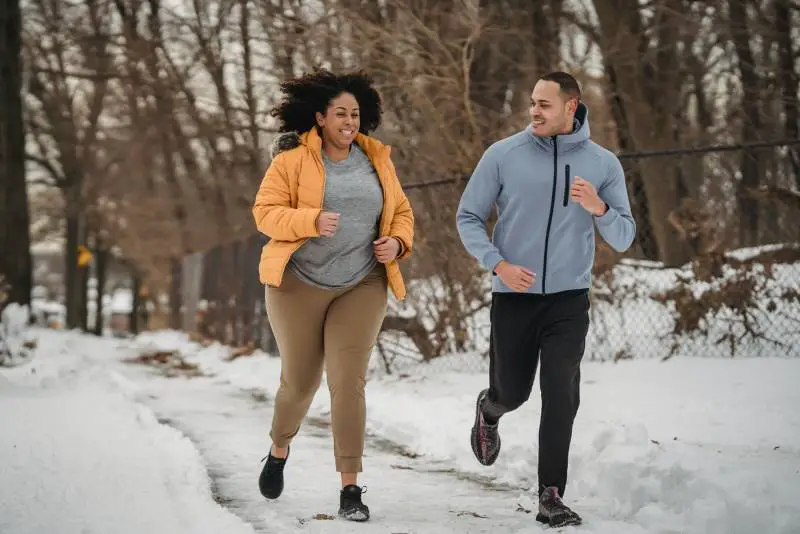 THE COLD: A SOURCE OF BENEFITS FOR YOUR BODY DURING EXERCISE
FOR YOUR BODY…
Everyone can practice a sport outside when it is cold, there are no contraindications. Whether it's an endurance sport (running, trail running, brisk walking, etc.), muscle-strengthening exercises (sheathing, squats, abs, etc.), or a sport that is practiced outdoors such as horseback riding, track and field, or soccer. When the body is in motion, the muscles heat up and produce a lot of heat, which allows the body to learn to regulate itself. The colder it is, the more energy your body expends to maintain its internal temperature at 37 degrees, so it causes your body to readjust completely without you even realizing it.
AND FOR YOUR HEAD
What are the benefits to your body and health in the cool winter weather? First of all, playing a sport outside when it's cold will improve your blood circulation and boost your heart activity. Secondly, exercising outdoors, especially during the winter when the days are shorter, is important to maintain a good mood and to promote the development of self-esteem. This is called "green therapy". Finally, for those of you who understand "running" when we talk about doing sports outside, you should know that running in cold weather is an excellent way to burn calories because the cold releases toxins from the body, which eliminates certain bad fats.
Be careful though, because some health problems can occur if you train too hard in cold and dry weather. We'll tell you more just below!
WHAT ARE THE RISKS OF EXERCISING IN COLD WEATHER?
DON'T SKIP THE WARM-UP
In winter, ligaments, tendons and joints are more sensitive because they lose elasticity due to the cold. Therefore, you must be more vigilant on the preparation steps before practicing your sport outdoors, whatever the sport and whatever the intensity of the physical exercise. Warming up is indeed essential to avoid health problems later on.
MUSCULAR AND VASCULAR RISKS
In addition, the diameter of our blood vessels decreases to avoid heat loss. Our muscles are thus less irrigated, which increases the risk of injuries, especially muscular ones. Also, the risk of heart attack due to thermal shock is important beyond the age of 40 and remains a danger for all people with heart weaknesses whatever their age. On the respiratory side, practicing a physical activity such as running in the cold at too high an intensity can cause asthma in athletes, triggered by an overly intense effort of the lungs to try to compensate for the cold felt outside and the quality of the air inspired during the run.
OUR TIPS FOR EXERCISING IN COLD WEATHER WITH PEACE OF MIND
KEEP A STEADY PACE
More than ever in winter, it is important to keep a regular rhythm by establishing a sports routine when you exercise outdoors. Take into account your warm-up and cool-down time, always in accordance with the objectives of the session, for the comfort of your body. Ask people around you who practice outdoor activities in cold weather to motivate you and perhaps find ideas to maintain a regular rhythm.
BE WELL EQUIPPED
Beyond the physical preparation, doing sports when it's cold requires a clothing preparation. Cover the extremities of the body well, you are not going to die of heat with a pair of breathable gloves to do an endurance sport for example! Clothing is very important, it must be chosen according to the physical activity and the intensity of the effort. Think about soft clothes to be comfortable. When we know that ⅔ of the heat loss of the body comes from the poorly protected extremities, we thus realize the need to have the extremities well covered. To be well equipped is also to ensure a good body temperature and avoid over-activity of your heart.
INCREASE YOUR WARM-UP TIME
Do more than a standard warm-up in cold weather. Start by warming up your entire body, then using a funnel format, progress to warm-up exercises targeted to the muscles you will be using during your workout. Warming up is essential to prepare your body for exercise, especially in cold weather. If you have an exercise bike, for example, you can finish your warm-up with 5 to 10 minutes on the bike
STAY WELL HYDRATED
We often think that we need to drink more in the summer because of the high temperatures, this is true but not only in the summer. Good hydration is necessary every day, whether you practice a physical activity or not, in summer or in winter. When it is (very) cold, in autumn and winter, drinking water is essential because the cold accentuates dehydration, even if the coolness felt does not make you feel thirsty as it can do in summer.
To be on the safe side, if you want to start practicing an outdoor sport, ask your doctor for advice about your ability to cope with the cold in winter. Although the risks explained above are not a general rule, remember that prevention is better than cure!