Summer is coming and with the rising temperature and the first heat, we tend to lose our appetite and the desire to cook. Today, we offer you some tips and recipes for eating when it's hot.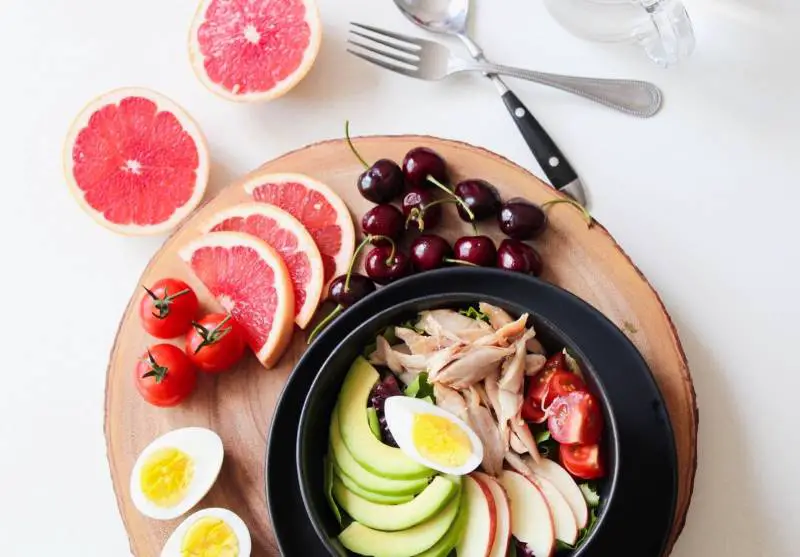 GIVE PRIORITY TO CERTAIN FOODS
FOCUS ON (LOTS OF) FRUITS AND VEGETABLES
Whether it's the middle of January or a heatwave, fruits and vegetables are your best allies. If you are a sportsman, these foods will provide you with all the vitamins you need for your session. Vegetables and fruits are particularly rich in water and will compensate for the dehydration linked to the strong heat which puts your body to a hard test. Raw or cooked, vary the vegetables in your lunchtime salads to multiply the nutritional content of your meals. For a little more indulgence, you can sprinkle them with a little olive oil and a few spices. These water-rich foods will be digested more easily by your body.
FORGET ABOUT HEAVY MEALS
In the summer, make sure you limit dishes that are too fatty or too heavy. This is a small concession for those of you with a sweet tooth, but what a pleasure to feel light when you are already sweating profusely because of the heat. Avoid dishes with sauce that require too much digestion for your body and create a feeling of intense heat. Instead, opt for simpler recipes (both to cook and to digest). In your diet, limit your consumption of salt, which tends to create a sensation of thirst quickly. Even in your summer salad, certain foods contain a significant amount of salt and can be harmful to your health, such as cheeses, mustard or soy sauce. Don't hesitate to take a look at the components of your food when shopping!
AVOID THE TRAPS!
If you've been waiting for summer for months, the vacation season is also a time of many temptations that are not always healthy for our summer body. The first one: the barbecue. Granted, the first barbecue of the year has such a special taste that we find ourselves doing a lot more of it than we expected during the summer months. Despite the pleasure we get from it, the red meat we eat requires more effort from our bodies to be digested. Prefer white meat or grilled vegetables (peppers, tomatoes, zucchini, etc.) that will delight you when cooked on the flame. And don't forget, keep a light hand on the salt!
BE CAREFUL WITH SMALL GOURMET PLEASURES
For appetizers with family or friends: chips, cold cuts and rillettes of all kinds will make way for a few raw, water-rich vegetables to give you the hydration you need in hot weather. Indulge yourself with a glass of alcohol (it's still the vacation) but consume in moderation. For a snack, allow yourself a small ice cream from time to time but do not overdo it! Ice cream has a lot of calories and reduces the sensation of thirst (thus increasing dehydration). A homemade fruit sorbet will do very well for a gourmet break while being relatively healthy.
REMEMBER TO STAY WELL HYDRATED
Making sure you eat well during the summer will make it easier for you to cope with the high temperatures. But beyond meals, you should also pay particular attention to your hydration, which is essential in hot weather.
WATER, THE IDEAL DRINK FOR SUMMER
Whether it's January or the middle of summer, hydration is essential, especially if you are a sportsman. Water makes up 60% of our body's composition: it allows us to regulate our temperature and is also responsible for the oxygenation of our cells and the circulation of our blood. If in normal times hydration is essential for our body and our health, it is even more so when it is hot. To temper our body temperature, the rule is simple: we drink 1 to 2 liters of water per day. To be sure to drink enough during the day, always carry your water bottle. Exit industrial juices or sodas with too much sugar which will only slow down your body. Water remains the best drink to hydrate you when the weather is hot.
DRINK AT THE RIGHT TEMPERATURE
During hot weather, your body works to regulate its temperature to around 37 degrees. If we tend to think that drinking iced beverages allows us to refresh ourselves, in reality, this sensation is only temporary. Drinking iced water will only reduce the sensation of thirst and only for a limited time. The ideal is therefore to drink at room temperature so that the body does not work harder than it can. The same goes for hot drinks, which are more dehydrating than we think. Prefer to drink them lukewarm with a slice of lemon, very beneficial for its draining side.
SOME RECIPE IDEAS
PREFER COLD DISHES
When the warm weather arrives, our meals become cooler and lighter to better cope with the heat, which can be difficult to bear. In addition, we prefer to lounge by the pool rather than spend 4 hours in the kitchen. But what can you cook when it's hot? Salads are perfect for eating on a hot day. Starting with a starchy base like pasta or potatoes, compose your salad recipes as you see fit with seasonal vegetables and fruits. If you are vegetarian, there is nothing like a Greek salad for maximum freshness in hot weather. Tartines are also a good alternative for cold dishes with more gourmet or healthy recipes.
YOUR RECIPE FOR CUCUMBER GAZPACHO WITH FRESH HERBS
To vary the pleasures, think of cold soups, like homemade gazpachos, which we tend to forget but which are so practical to consume. Here is a gazpacho recipe that will delight your taste buds and those of your guests.
For 4 people:
Peel 1 or 2 cucumbers (depending on the appetite of your guests);
Add them to a blender with 250 grams of fresh cream, 2 cloves of garlic, a bunch of mint, a bunch of chives and two tablespoons of olive oil;
Season with a little salt, pepper and other spices if you wish;
Put the preparation in the refrigerator.
For the gourmets, accompany your cucumber gazpacho with some homemade croutons and enjoy!
Well, if you let yourself go a bit during the vacations, we won't hold it against you. There's nothing wrong with giving yourself a break, but you can count on your Blue Orange coach to make you sweat as soon as you get back to work!