For those of you who want to start weight training but are afraid to do so! Forget your preconceived ideas because this discipline is not only for fitboys and fitgirls in the weight room. Whether it's to gain mass or simply to take care of yourself, any athlete can start weight training and enjoy its benefits. We give you our best advice to start weight training!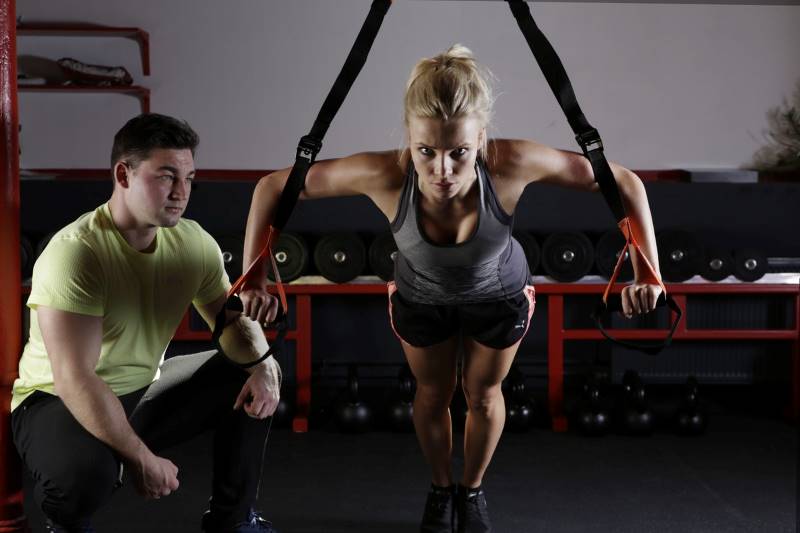 THE BASICS OF WEIGHT TRAINING
WHAT IS WEIGHT TRAINING?
The principle of weight training is very simple to understand: we mobilize the muscle by a contraction to make it work and generate its development. Whether it's with body weight exercises or with the use of machines or loads, the solicitation of muscles will allow you to gain or strengthen your muscle mass. Often practiced as a complement to another sport, bodybuilding has become widely democratized, to the point of becoming the sole physical activity of some practitioners, who have often become addicted to this practice.
FOR WHICH PUBLIC
If the practice of sports is recommended from the youngest age, bodybuilding is to be avoided for people under 15 years old who should rather prefer soft sports. On the other hand, after this age, you can start weight training. This will help develop muscle mass and stimulate growth. For adults, remember that there is no age limit to start. Many people are reluctant to start weight training, even though it's right up their alley! Whether you are 30, 45 or 65, keep in mind that weight training, just like any other physical activity, will never hurt you more than a sedentary lifestyle. However, it will be necessary to adapt your training and recovery time according to this criterion and your sports profile. Ladies, if you are apprehensive about your first steps in this practice, don't worry! Weight training is not just for men and is completely affordable for all of you.
THE BENEFITS OF WEIGHT TRAINING
A BENEFICIAL PRACTICE FOR PHYSICAL FITNESS
While many people see weight training as a discipline that aims to improve physical appearance, it would be a mistake to limit it to that. On the contrary, it is a practice that each of us would benefit from adopting to improve our physical condition and well-being. This activity has many benefits. From a physical point of view, a strength training session can allow you to improve your cardio and therefore take care of your cardiovascular system (aka your heart and everything that surrounds it). Strength training is also a good way to improve blood circulation, proprioception and spinal support.
STRENGTH TRAINING IS GOOD FOR YOUR MORALE!
While strength training has many benefits for your physical condition, your state of mind will also benefit! Not to mention the euphoric effect of the sport, strength training makes many people feel better about their bodies. Strength training helps tone the body and lose weight (by working the muscles, which are very energy and fat intensive). You'll look streamlined and athletic! You might as well say that your self-esteem will be boosted. As you know, at the Orange bleue, we are convinced of the benefits of physical activity on mental well-being. So in the gym or at home with body weight exercises, we can only encourage you to start weight training.
A WELL-THOUGHT-OUT WORKOUT TO START WEIGHT TRAINING
The best way to get started in weight training is to think about the best way to train. And if you're afraid of taking your first steps in this rather impressive world, there's nothing better than the sound advice of your coach, L'Orange bleue mon coach Fitness!
START WITH FULL-BODY OR HALF-BODY
First of all, a beginner in bodybuilding should focus on sessions called "full-body" or "half-body". Behind this anglicism is simply the fact of mobilizing either the upper or lower body or both during a workout. Why do we do it this way? Simply because it is more affordable for a beginner to start with exercises on large muscle groups rather than on a specific muscle. This will allow you to approach this discipline with confidence but also to develop your muscle mass in a homogeneous way at the beginning of the practice. To do this, focus on polyarticular exercises such as squats (a great classic for building up quadriceps and hamstrings!).
CHOOSE QUALITY OVER QUANTITY!
In terms of sets and repetitions, we recommend fairly short sets with 5 to 8 repetitions on an exercise. To begin with, your training frequency can be 2 to 4 sessions per week, alternating sessions according to muscle groups. Finally, do not load too heavy. Qui va piano va sano. Although you may think otherwise, in weight training it is better to put your ego aside and start light so as to obtain a perfect execution technique.
OUR FINAL TIPS FOR STARTING WEIGHT TRAINING
SET ACHIEVABLE GOALS
Needless to say, getting into weight training and hoping to achieve The Rock's physique is a sweet dream (except for the most motivated, of course). The first question you need to ask yourself is "why am I doing bodybuilding?" : for muscle mass gain, to get stronger, to lose weight or to heal an injury… All goals are achievable as long as you give yourself the means but also don't be too demanding with yourself at the risk of getting discouraged and giving up.
DON'T FORGET CARDIO AND STRETCHING
It's a good thing you decided to take up weight training. Good for you! However, keep in mind that the ideal is to combine some cardio and strength training. Working on your cardio will allow you to keep the rhythm during your weight training sessions and to last longer during your exercises. Also, stretching is a must. They will be the key to gaining mobility in order to achieve greater range of motion.
WATCH YOUR DIET
Your efforts should not only focus on physical exercise. Diet plays a key role in achieving your goals. Make sure you eat complete and balanced meals, with an emphasis on natural foods. Also, if you want to gain mass, focus on proteins (animal or vegetable) because they are involved in building muscle.
ENTOURSE
Nothing is more important to practice safely and to motivate yourself! It is quite normal to have some apprehension when starting a new activity. So to be sure you are going in the right direction, don't hesitate to ask your club's coach for advice. Like a guide, he or she will be able to help you reach your goals, explain the basics of bodybuilding and even design a personalized program for you.
It's up to you!